Friday, July 8, 2011
a beautiful little girl that had big brown eyes named Caylee Marie Anthony.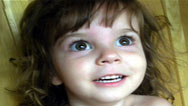 Everywhere I go, the main topic of conversation is her "evil" mother. Strangers talk across dinner tables about the recent
not guilty
verdict. Facebook posts and tweets overflow cyber land with rage regarding the jury's decision. News channels are devoting 24 hour programming covering Casey Anthony's trial, verdict and release date.
Everyone has an opinion. People that are normally calm are outraged. I am outraged – but not for the same reason most of the general public is. Though I feel a guilty outcome may have been in order, I'm not sure about the death penalty phase of the trial. As a Christian, I believe in one God as the ultimate judge of our actions.
Click on the title to view the complete story
The Bible says
I myself will tend my sheep and have them lie down, declares the Sovereign LORD. I will search for the lost and bring back the strays. I will bind up the injured and strengthen the weak, but the sleek and the strong I will destroy. I will shepherd the flock with justice
. Micah 6:8. Simply, God is saying that He takes care of all His children.
I am outraged because I fear the anger of others. I pray the rage becomes positive energy. We need to remember and honor the memory of God's little lamb, Caylee Marie Anthony. Let's focus now on the children we can save by opening our eyes and looking forward.
One way to do that is to check out the statistics on the following link for child abuse. You can make a difference in another little one's life as a tribute to her. Remind yourself that
Caylee isn't the only one.
Her story is extraordinary, it touched our hearts and it made national news. By reading these stats you can see how many children are missing or hurting everyday that aren't in the media.
http://www.childhelp.org/pages/statistics?gclid=CJHGttyw8KkCFeUaQgodlwExXA
I was one of those kids that wanted someone to ask questions and get involved. Yes, people occasionally asked questions, then I lied making up excuses. I prayed someone would delve deeper. No one did until earlier this year – 50 years later (
feel free to refer to the archives for "The Unasked Question"
). There was a battle inside of me. I was scared when they didn't ask, but was frightened if they did.
Keep your eyes open for your neighbor kids. You can tell if they are clumsy or maybe there might be a problem. If you suspect something wrong, trust your gut.
Be alert!
You can ask questions without sending up red flags.
Be alert!
Watch the child's eyes when they answer, watch how they stand.
Be alert!
Don't look for trouble if it's not there, just
be alert!
When warranted, contact the authorities.
Be Alert!
Volunteer. Work in your church nursery. Mentor. Be a big brother or big sister.
Check out the internet or yellow pages for organizations where you can help. Don't be offended if the group you choose to volunteer with wants to "check you out". It's for your safety as well as the child's. The schools love having parents and grandparents come and read to their students. It is rewarding, it makes you feel good. It makes a difference in a child's life.
Focus on the positive. A couple of weeks ago at church I had a 5 year old tell me I was her best friend. Man, did that make me feel good. It told me that I was making a difference in that child's life.
Negative energy promotes destructive behavior while positive energy promotes a constructive atmosphere.
We have a choice. What is yours?
Luke 6:37 says ~
Do not judge, and you will not be judged. Do not condemn, and you will not be condemned. Forgive, and you will be forgiven.
Think about what you are going to do? Will it help little Caylee to stand on a corner holding a sign that says "baby killer" or will she smile down from the heavens when someone helps another child from possibly suffering the same fate as she?
While writing this I saw on the news in Wichita, KS where 8 children, same family, were taken into protective custody. Three of the children were found wandering down a street looking for
a new place to live
. Were their family, neighbors and school system alert?
http://www.msnbc.msn.com/id/43672529/ns/local_news-wichita_ks/t/children-taken-protective-custody-after-telling-officers-abuse/
The article says their father said he didn't blame the children for wanting to live elsewhere. How did this family slip through the cracks? We need to get involved. We need to make a difference. We need to
BE ALERT!
While you are deciding on how to make a difference, I would also ask in the name of God's little angel to pray for her family. I can only imagine the pain and loss her grandparents feel. Grandpa George, my heart aches for him. It is said that Grandma Cindy perjured herself on the witness stand – who are we to judge. She's a mother. She couldn't save her grandbaby; can we persecute her for trying to save her only daughter even with the knowledge of her daughters presumed guilt? Her Uncle Lee needs prayers for healing, forgiveness and hope. Their whole family is broken and traumatized.
I also ask for prayers for Caylee's mother, Casey. Those of us who believe in God know that if she would sincerely, at some point, fall to her knees and ask God for forgiveness, He would forgive. Ephesians 1:7 tells us ~
in him we have redemption through his blood, the forgiveness of sins, in accordance with the riches of God's grace.
I realize it is hard to pray for someone we don't personally think fondly of or we don't understand. But, isn't someone like that, Casey Anthony, one that needs our prayers the most. I don't even come close to comprehending what this young mother has been accused of doing. I do know it's not my place to judge her. She will stand face to face with our gracious God and she will have her judgment day.
I felt the same way about my own parents. I never felt myself a victim. I was always a survivor, not allowing them the power over me to victimize me. It wasn't my place to judge either of them. I worship a merciful God who in the Bible assures me He will shepherd His flock with justice.
God Bless Caylee Marie Anthony
God Bless the Anthony Family
Jesus loves the little children, all the children of the world
What do you think? Agree or disagree ~ comments welcome!